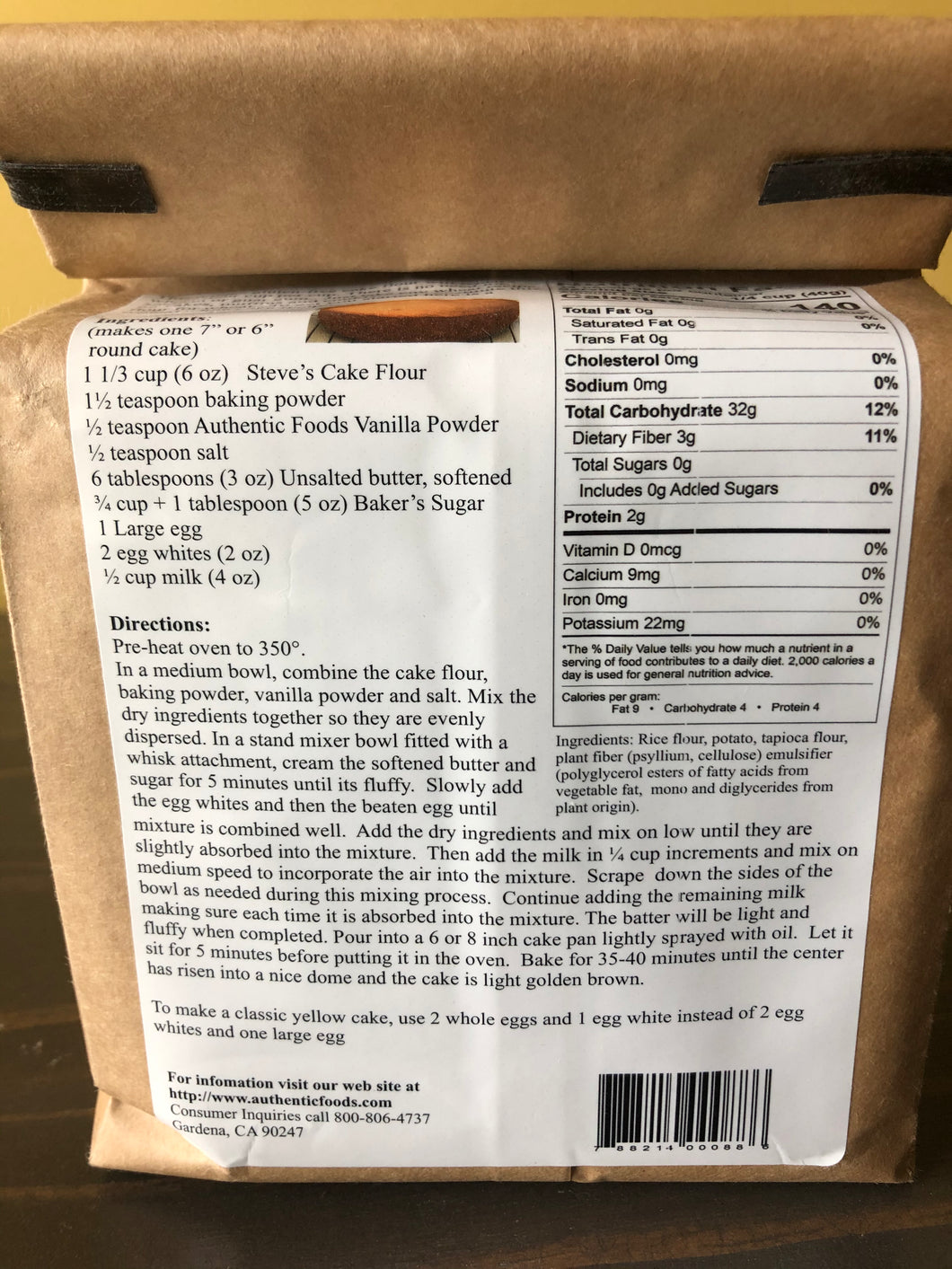 Authentic Foods Steve's Gluten Free Cake Flour - 3 lbs
Regular price $14.85 $7.43 Sale
SKU #: 788214000886
Shipping Weight: 3.06 lb
Servings: 34
It's Not Just Gluten Free, It's Better!

Manufactured in a Gluten-Free Environment

Gluten Free • Wheat Free

Makes, Cakes, Muffins, Cookies, Etc.

Dairy Free • Soy Free • Nut Free • Corn Free • Non GMO

Replaces Wheat Flour 1 to 1

Kosher
This unique gluten-free cake flour will replace wheat flour cup per cup. There is no need for xanthan or guar gum. Just take any wheat recipe for cakes, muffins, and cookies and substitute this flour for wheat. To get you started here is a typical white cake recipe.
In 1993 Authentic Foods was founded to provide consumers with a great-tasting-worry-free solution to all their gluten-free baking needs. From the time our grains leave the farm to when they reach you, all of our products are closely monitored o ensure that there is no chance of contamination. Many of our products are milled, blended and packaged in our 100% gluten-free facility. Today, we offer more than 30 products to meet the needs of all gluten-free bakers. Whether you are looking for the best quick and easy baking mix or individual flours to create a unique blend, let Authentic Foods help you make our meal special.
---
Directions
Ingredients:
(makes one 7" or 6" round cake)
1 1/3 cup (6 oz) Steve's Cake Flour
1½ teaspoon baking powder
½ teaspoon Authentic Foods Vanilla Powder
½ teaspoon salt
6 tablespoons (3 oz) Unsalted butter, softened
¾ cup + 1 tablespoon (5 oz) Baker's Sugar
1 Large egg
2 egg whites (2 oz)
½ cup milk (4 oz)
Directions:
Pre-heat oven to 350°.
In a medium bowl, combine the cake flour, baking powder, vanilla powder and salt. Mix the dry ingredients together so they are evenly dispersed. In a stand mixer bowl fitted with a whisk attachment, cream the softened butter and sugar for 5 minutes until its fluffy. Slowly add the egg whites and then the beaten egg until mixture is combined well. Add the dry ingredients and mix on low until they are slightly absorbed into the mixture. Then add the milk in ¼ cup increments and mix on medium speed to incorporate the air into the mixture. Scrape down the sides of the bowl as needed during this mixing process. Continue adding the remaining milk making sure each time it is absorbed into the mixture. The batter will be light and fluffy when completed. Pour into a 6 or 8 inch cake pan lightly sprayed with oil. Let it sit for 5 minutes before putting it in the oven. Bake for 35-40 minutes until the center has risen into a nice dome and the cake is light golden brown.
To make classic yellow cake, use 2 whole eggs and 1 egg white instead of 2 egg whites and one large egg.
Free Of
Gluten, wheat, dairy, soy, nut, corn and GMO.
Nutrition Facts
Serving Size: 1/4 Cup (40 g)
Servings per Container: 34
Amount Per Serving
% Daily Value

Calories
130

Calories from Fat
0

Total Fat
0 g
0%

   Saturated Fat
0 g
0%

   Trans Fat
0 g

Cholesterol
0 mg
0%

Sodium
0 mg
0%

Total Carbohydrates
26 g
11%

   Dietary Fiber
2 g
8%

   Sugars
0 g

Protein
2 g

Vitamin A
0%

Vitamin C
0%

Calcium
0%

Iron
2%
Other Ingredients: Rice flour, potao, tapioca flour, AF fiber blend.
The product you receive may contain additional details or differ from what is shown on this page, or the product may have additional information revealed by partially peeling back the label. We recommend you reference the complete information included with your product before consumption and do not rely solely on the details shown on this page. For more information, please see our
full disclaimer
.